O U T POST Ed. 1 – Self-publishing & representation
Thursday 17 May 2018 5:30 PM Thursday 17 May 2018 8:30 PM
Save
Saved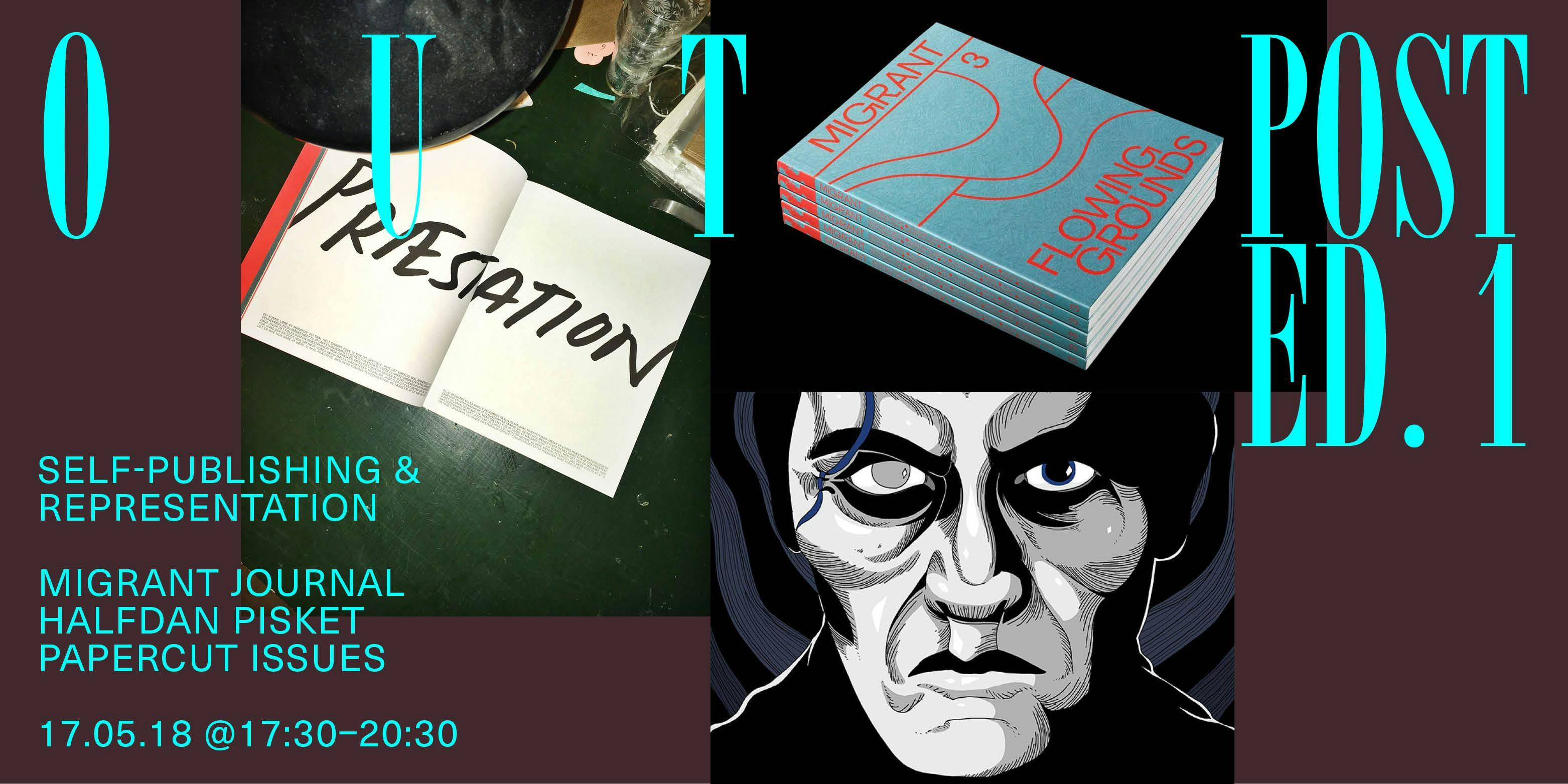 Last update 18/05/2018
717
O U T POST Ed. 1 is the first in a series of thematic half-day seminars organised by POST Design Festival. 
The events shed light on current topics or tendencies through an evening of talks about the work of contemporary designers and illustrators from near and far. The evening is finished off with an open panel discussion between the speakers and audience. The events are in English and open to everyone. 
The ambition with O U T POST is to develop, enhance and spread out the critical debate about the political, social and ethical aspects of illustration, digital and graphic design in the Nordic region and beyond.
For the first edition we are very happy to present:
Migrant Journal is a conceptual publishing project revolving around the many meanings of the word "migrant". Part design- and designer-driven, the editorial team "asks artists, journalists, academics, designers, architects, philosophers, activists and citizens to rethink our approach to migration and critically explore the new spaces it creates." The resulting themed publications are as multifaceted and curious in their subjects as the design is beautiful. Migrant Journal is based in Zürich, Switzerland and will be represented by award-winning graphic designer Isabel Seiffert.
Halfdan Pisket is an illustrator and artist working primarily with graphic novels out of Copenhagen. Before becoming an award-winning artist Pisket used to publish his works himself. The DIY-approach to publishing had a defining effect on his recent work. His monumental three-volume graphic novel "Dansker" was praised by the press and won the Special Award at Politikens Litterature Awards in 2016. As the first cartoonist ever Halfdan Pisket received the Danish Arts Foundations three-year work grant in 2015.
Papercut Issues is a young publishing outfit from Copenhagen. It is run and produced by a loosely knit group of young creatives producing content about all kinds of things regarding being young and in doubt about almost everything: norms, jobs, education, sexuality, dreams, heartbreaks, cutting, rejections, gender, depressions, successes, etc. The result, both digital and physical, is done very engaging and skillfully, with most of the work made by volunteers and produced out of a need to make their voices be heard. Papercut Issues is represented by founder and editor-in-chief Kirstine Leth Schütze.
culture
art
festivals
conventions
technology
politics
Nearby hotels and apartments
Republikken
Vesterbrogade 26, København, 1620, Denmark
Vesterbrogade 26, København, 1620, Denmark